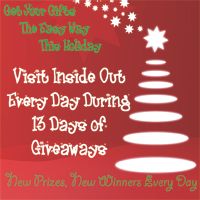 Black Friday will be anything but. Today marks day one of the 13 Days of Giveaways here on Inside Out – the 12 Days of Christmas becomes a baker's dozen. Every business day for the next few weeks, we'll be putting up one must-have product for someone in your family (yes, even the four-legged friends). And everyday, you'll have a chance to win – some days MANY of you will win.
Kicking it off? Fill in the Blankie blankets are the kind you save for something (or someone) special. Well made enough to be well loved, the soft fabric centers are surrounded by one-of-a-kind strips where you get to fill in the blanks. Have them embroider the edges with glow-in-the-dark thread or a barn red. Pick a funky font or a classic print. Write a love letter to your little one. Commemorate a birthday, an adoption, a christening. Fill in the Blankie has taken a child's lovie and made a lifetime keepsake, and they let you direct the process.
It's the holiday gift that will remain in their cribs, on their laps, under their picnics and follow them on adventures for years to come.
And Fill in the Blankie will be securing your memories in cuddly form. The first winner of the first of Inside Out's 13 Days of Giveaways will win their own Fill in the Blankie blankie, at a value of $150! To enter, leave a comment with the reason you think your daughter/niece/granddaughter/whoever needs a blankie and tells us what you would say with 200 characters if you had your very own ULTRA personalized blanket from Fill In The Blankie (check their site for inspiration). Get extra entries by grabbing my badge and/or blogging about this contest and all 13 Days of Giveaways (remember to leave the link in comments as well).
Open to U.S. and Canadian residents, the contest will close on December 5, so remember to check back or subscribe at left to be notified right away (and find out what the rest of our 13 days of giveaways have in store). There are just two more days to be entered in the November subscribers giveaway for the Build-a-Bear Friends Fur All Season Nintendo game courtesy of Game Factory Games!
Have you "liked" Inside Out Motherhood on Facebook yet?
Have you "liked" Inside Out Motherhood on Facebook yet?